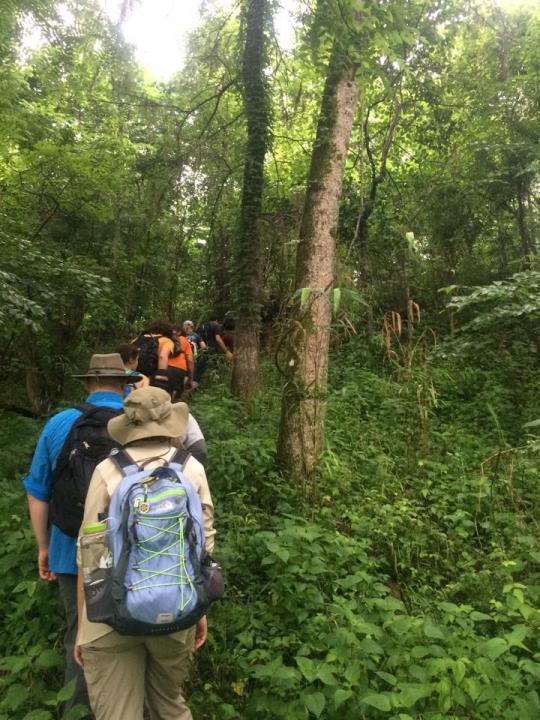 The Institute of Native American Studies at the University of Georgia was founded in 2004.  This year INAS commemorates the 200th anniversary of the Cherokee Syllabary with a screening of the film Searching for Sequoyah at UGA (TBA). The film will air on most affiliate PBS stations across the country November 1, 2021.  Check your local listings for times.
Today, we are a vibrant community of two dozen scholars, including six Native faculty, in addition to our graduate and undergraduate students.  Institutes at UGA, just like departments, have three functions: teaching, programming and research. Central to our mission are our undergraduate and graduate certificates in Native American Studies.  When we were designing our programs, we decided to go with certificates rather than majors or degrees because we felt it gave our students greater flexibility.  By getting a degree in a "traditional discipline" and a separate credential demonstrating their expertise in Native American Studies, undergraduates can go on to graduate studies in either their core discipline or in Native American Studies.  Graduate students can seek jobs in their core discipline or in Native American Studies.  
INAS maintains a robust programming agenda, bringing some of the most prominent and significant figures in Native American and Indigenous studies and in the Indigenous Americas. All INAS events are free and open to the public.  Among those we have brought to campus are Heather Ahtone, Colin Calloway, Chris Eyre, Joy Harjo, Sterlin Harjo, Thomas King, Lee Maracle, Simon Ortiz, Susan Power, Chad Smith, David Hurst Thomas, Gerald Vizenor, Joe Watkins, Rob Williams, Craig Womack, and the late William Yellow Robe. 
One of the Fall talks that INAS promotes is AIR Talks conceived as a Native equivalent of the popular TED Talks.  Held on the autumn equinox in September, these talks focus on scholars and/or creative artists coming from tribal nations with historic connections to what is known today as the American Southeast. Thus, by coming to UGA, southern tribal scholars and artists are returning to the region from which most of their ancestors were forcibly expelled.  This year's 2021 AIR Talk speaker is the Choctaw/Chickasaw author of six books, Phillip Carroll Morgan. Here's the link to more information.
AIR Talks are keeping with INAS's desire to be the place where cutting-edge ideas in Native American Studies are discussed first.  For example, INAS held the first conferences on both "American Indian Literary Nationalism" and "The Red Atlantic."  With funding from the U.S. Forest Service, we organized the first conference on tribal resource management and climate change, bringing together Native American Studies scholars, climate change scientists, tribal resource managers, and community intellectuals from tribal nations in the Southeast.  Dr. Jace Weaver and other scholars created the Native American and Indigenous Studies Association that was formed in 2008.  The first conference was hosted by INAS at UGA.
Over the years, INAS has forged strong bonds with the Chinese Scholarship Council and with institutions in China.  Every year, we sponsor a visiting Chinese scholar working on his or her dissertation research, primarily (though not exclusively) in Native American literature at UGA. 
INAS supports the research of its faculty and graduate students (and occasionally, when possible and appropriate, undergraduates earning our undergraduate certificate).  At the same time, a strength of the institute is our stress on the community-driven scholarship.  We partner with tribal nations and other community organizations to do work that they need doing. We are always looking for new partnerships with community organizations and other academic institutions.  If you are interested, please email Interim INAS Director, LeAnne Howe at: lhowe1@uga.edu.