Career Paths
"The University of Georgia has been at the forefront of American Indigenous studies for years, and continues to advance Native sovereignty and self-determination with the Institute of Native American Studies.  Undertaking coursework with the INAS provides me the opportunity to ground my work in ways that tangibly and positively benefit Indigenous peoples and communities.  As a Ph.D. student focusing in Native American and Indigenous literature, the multi-disciplinary approach of the INAS allows me to tailor my coursework to my specific research interests." - Matt Kliewer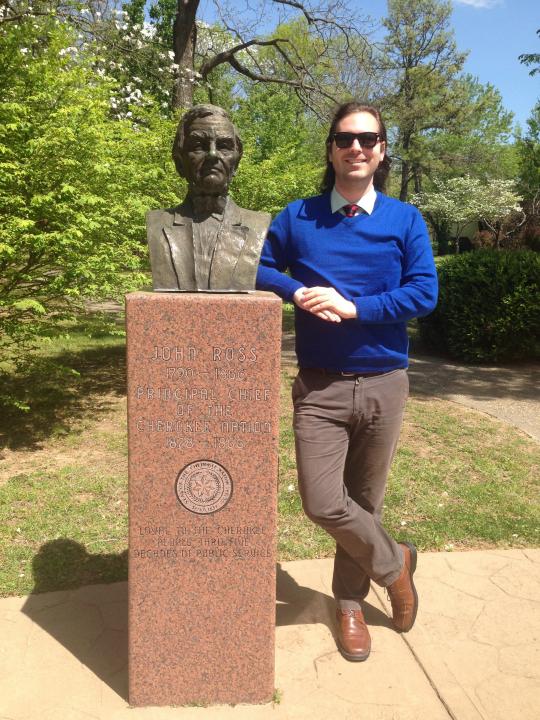 A Step into Higher Education
Andrew Epstein received his MA in US History and Native American Studies, completing the INAS certificate before going on to the PhD program at Yale.
"The rigorous, interdisciplinary training I received as a graduate student at the Institute of Native American Studies put me at the very heart of the critical debates in Indigenous law and policy, culture and religion, history and politics."
In 2012, the Institute of Native American Studies provided funding for Andrew to attend the Native American and Indigenous Studies Association conference. 
"My presentation, which I authored in Laura Adams Weaver's research methods course, went on to win the prize for Best Graduate Student Paper that year. As I work on my dissertation as a PhD student at Yale University, I regularly return to my notes from courses like Indian Law and Policy, or from my comprehensive exam with Professor Jace Weaver, to recenter my thinking and push my scholarship in more interdisciplinary directions. The INAS offers one of the best educations in Native American Studies in the United States." 

Andrew Bard Epstein
Academia
Within the sometimes constraining disciplinary divisions of traditional academics, INAS offers a path to the interdisciplinarity that is increasingly valued in academic job markets.  Miriam Brown Spiers, a recent INAS graduate student, moved into an academic career as a lecturer at the University of California, Merced.   
"The courses I took in Native American Studies introduced me to an interdisciplinary approach that wouldn't have been possible within the traditional framework of an English degree." 
 Miriam is now Assistant Professor of English and Interdisciplinary Studies at Kennesaw State University.
"INAS introduced me to the contemporary issues in the field-- not only through assigned readings and class discussion, but also by providing the opportunity to meet a wide variety of scholars and artists."

"Perhaps most importantly, INAS challenged me to consider the relationship between Indigenous research methodologies and values and my own place within the academy. By giving me a safe space to engage with these larger questions, INAS helped me develop the research agenda and teaching philosophy that inform my ongoing work."
Miriam is currently working on a contribution for publication in a fiction collection grounded in indigenous issues. 
Joshua S. Haynes completed the INAS certificate in 2013.
"INAS was instrumental in landing my current position as Assistant Professor of History at the University of Southern Mississippi where my courses are cross-listed in American Indian Studies. I wanted the certificate because I knew I would be competing for jobs in a crowded field of talented scholars. The certificate allowed me to distinguish myself by marketing my ability to teach Native American Studies courses in addition to traditional history courses." 
"My training for the certificate also helped shape my research. The Institute provided funds to support the presentation of my work at the American Society for Ethnohistory annual conference in 2007 and to conduct research at the University of Michigan's Clements Library in 2012."
Joshua's first book was published by the University of Georgia Press in 2018.
Work in US Indian Policy 
After completing the INAS certificate, Brett Weber moved to Washington DC for an internship on the Native American team in the Office of Public Engagement and Intergovernmental Affairs at the White House.  
"My primary job was to prepare for the 2015 Tribal Nations Conference, which was the 7th TNC of the Obama Administration and fulfilled a promise he had made to Indian Country. My staffer was Yu'pik from Alaska, so I also worked a great deal on Alaska Native issues. I was surprised by the amount of access I received as an intern. I would have expected that I'd be doing menial tasks, and there was some of that, but I also got to do really substantial things, such as draft a memo to the President for his trip to Alaska in 2015." 
Brett then moved on to a fellowship with the Senate Committee on Indian Affairs.  
"As I got more in the weeds of different issue areas, I began to be really interested in the Indian health care delivery system, and to be frank, how best to correct its failures." 
Brett is currently working at the National Indian Health Board developing an oral health initiative encouraging Tribes to look at innovative delivery models such as dental therapy to improve health outcomes in their communities.